Hide this clue If body, mind and soul are not in harmony for a long time, this condition affects their personal health, both psychologically and physically.
Berlin, Germany (PRUnderground) April 18th, 2018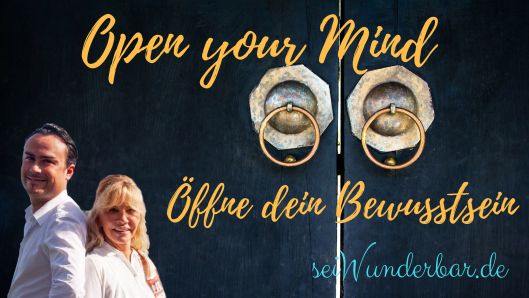 In extreme cases, even serious diseases arise. Meditation, sports activities and a balanced diet can lead to the much-needed balance, but often these measures are not enough. The online seminar for spiritual awareness goes one step further by providing a concrete engagement with the psychic level. Because only here is a balance that brings inner peace, contentment and joy of life, possible. Most people are controlled by the mind. However, rational thinking displaces gut instincts, which are increasingly stunted over the years. It is the intuition that provides information about further connections. The flow of life can only be fathomed with the heart and its own revelations. Recapturing the inner voice, listening to it and following its own impulses, the online seminar for spiritual awareness leads the way to subjective knowledge.
Strengthen the basic trust
The basic trust forms the basis for self-esteem, love and trust in others as well as in the universal whole. The development of inner emotional security begins at an early age. Many people feel that they lack absolute trust. They do not know the feeling of unrestricted security. Instead, they are constantly plagued by fears and worries. The online seminar for spiritual awareness contributes to a consolidation of the basic trust. The implementation of the lessons results in a sense of being accepted and the resulting development of personality. This transformation process creates ideal conditions for well-being and success.
Let go of old beliefs
Inner convictions are stuck deep in the mind. These own truths do not have to correspond to reality. Rather, they are views acquired through education and years of experience. Perceptions of this kind affect thoughts, feelings and behavior. If the beliefs are predominantly negative, they have a counterproductive effect on the entire life. An unfavorable expectation attracts constellations that correspond exactly to this idea. Anger and disappointments are inevitable. How to transform adverse beliefs into positive beliefs, so that more happy circumstances come to life, shows the online seminar for spiritual awareness "Be wonderful".
For German readers:
Nutze die spirituelle Kraft und sei wunderbar!
Stehen Körper, Geist und Seele längere Zeit nicht im Einklang, wirkt sich dieser Zustand auf das persönliche Befinden aus, sowohl psychisch als auch physisch. Im Extremfall entstehen sogar schwerwiegende Krankheiten. Meditation, sportliche Aktivitäten und eine ausgewogene Ernährung können zur dringend notwendige Balance führen, oftmals reichen diese Maßnahmen aber nicht aus. Das Onlineseminar für spirituelles Bewusstsein geht einen Schritt weiter, indem eine konkrete Auseinandersetzung mit der seelischen Ebene erfolgt. Denn nur hier ist ein Ausgleich, der innere Ruhe, Zufriedenheit und Lebensfreude beschert, möglich. Die meisten Menschen werden vom Verstand gesteuert. Das rationale Denken verdrängt jedoch das Bauchgefühl, das mit den Jahren immer mehr verkümmert. Dabei ist es die Intuition, die Aufschlüsse über weiterführende Zusammenhänge gewährt. Der Fluss des Lebens lässt sich nur mit dem Herzen und den eigenen Offenbarungen ergründen. Die innere Stimme wiederfinden, auf sie hören und eigenen Impulsen folgen, mit dem Onlineseminar für spirituelles Bewusstsein gelingt der Weg zur subjektiven Erkenntnis.
Das Urvertrauen stärken
Das Urvertrauen bildet die Basis für Selbstbewusstsein, Liebesfähigkeit und Vertrauen in andere Personen sowie in das universelle Ganze. Die Entwicklung der inneren emotionalen Sicherheit beginnt schon im frühen Kindesalter. Viele Menschen spüren, dass ihnen das absolute Vertrauen fehlt. Sie kennen das Gefühl einer uneingeschränkten Geborgenheit nicht. Stattdessen werden sie permanent von Ängsten und Sorgen geplagt. Das Onlineseminar für spirituelles Bewusstsein trägt zu einer Festigung des Urvertrauens bei. Die Umsetzung der Lektionen hat eine Empfindung des Angenommenseins und eine daraus resultierende Entfaltung der Persönlichkeit zur Folge. Dieser Wandlungsprozess schafft Idealbedingungen für Wohlbefinden und Erfolg so die Heilerschule für Geistiges Heilen aus Deutschland.
Alte Glaubenssätze loslassen
Innere Überzeugungen sitzen tief im Geist fest. Diese eigenen Wahrheiten müssen nicht der Realität entsprechen. Vielmehr handelt es sich um Sichtweisen, die durch die Erziehung und über jahrelange Erfahrungen angeeignet wurden. Auffassungen dieser Art beeinflussen die Gedanken, die Gefühle und das Verhalten. Sind die Glaubenssätze vorwiegend negativ geprägt, wirken sie sich kontraproduktiv auf das gesamte Leben aus. Durch eine ungünstige Erwartungshaltung werden Konstellationen angezogen, die genau dieser Vorstellung entsprechen. Ärger und Enttäuschungen sind gewissermaßen vorprogrammiert. Wie sich nachteilige Glaubenssätze in positive Überzeugungen umwandeln lassen, damit vermehrt glückliche Umstände ins Leben treten, zeigt das Onlineseminar für spirituelles Bewusstsein "Sei wunderbar".
About Deutsche Heilerschule U.G.
In the German Healing School for the Munich area, we supplement the ways of conventional medicine with the help of the healing powers of the mind.
Our services:
We offer in the team and in the multidisciplinary network of lecturers and teachers of spiritual healing, complementary alternative ways of healing as well as body-oriented therapies.
Our philosophy:
Responsible teamwork ensures the optimal, tailor-made training for each student.
Our guiding principle:
Reconciling body, mind and soul is the foundation of spiritual healing and mobilizes recovery powers.
Our success
Our students feel at ease and cared for, they also benefit from the idyllic location of the house as well as the concentrated attention through the training and seminars
In der Deutschen Heilerschule für den Raum München ergänzen wir die Wege der Schulmedizin mit Hilfe der Heilkräfte des Geistes.
Unsere Leistungen:
Wir bieten im Team und im multidisziplinären Netzwerk von Dozenten und Lehrern des Geistigen Heilens, ergänzende alternative Heilweisen sowie körperorientiere Therapieverfahren.
Unsere Philosophie:
In verantwortungsvoller Teamarbeit wird die optimale, individuell massgeschneiderte Ausbildung jeden Schülers gewährleistet.
Unser Leitsatz:
Körper, Geist und Seele wieder in Einklang zu bringen ist die Grundlage des Geistigen Heilens, und mobilisiert Genesung bringende Kräfte.
Unser Erfolg:
Unsere Schüler fühlen sich bei uns wohl und betreut, sie profitieren ebenso von der idyllischen Lage des Hauses wie von der konzentrierten Zuwendung durch die Ausbildungen und Seminare
Original Press Release.

Source: PRUnderground.com