Scorpionliquidatorsusa.Com a Columbus based Liquidation Company will be hosting a "100 Yard Community Sale". Farmers Market, Boosters,Church Groups,Small Business Vendors and Specialty Item Seller are Invited to Host a Booth.
Dayton, OH, USA (PRUnderground) June 12th, 2018
ScorpionLiquidatorsusa.com a Ohio Based Liquidator of Electronics and other bulk Merchandise from major Chain Suppliers, will be hosting it's first "100 Yard Community Sale" July 3-5,2018 in Dayton,Oh at WELCOME STADIUM.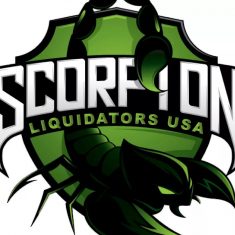 "We're inviting the Community to get a Booth and sell any item they'd like to sell" according to a spokesperson for ScorpionLiquidatorsusa.com Vice President of Marketing Vickie DIggs,who also indicated a portion of the proceeds from the sale,will be given to DPS School Atheltic Program. A Famers Market Area will be setup for local farmers to sell the fresh vegetables,fruits,eggs any fresh items are currently available.
Fundraisers Groups & Vendors who sell the following items:Farmers Markets Items,Clothing Accessories and Shoes,Electronics,Furniture,Collectibles/Sports Cards etc,Avon/Mary Kay Items,Jewelery items,Specilaty items i.e. Art Work,Painting.Specialty Photos etc,Auto Accessories & Parts,Baby Clothes & Accessories etc.
A Water Dunk Machine will be on hand for any Booster Club,Church Group and Sports Team needing fundraising to host the booth for 2 hrs. The Group pays a minimal fee and for two hours they invite guest to dunk one of the chosen members.
Food Trucks are also invited to sell their items as well!!
Early Bird Vendors before June 25 (10×10) are tables for the 3 days are $200.00 after 6/25 are $250.
Door Prizes and Hourly Drawing will also be going on over the course of the 3 Day Sales Event.
Price of Admission will be $7 per day!!
Media & Sponsorship Inquiries should Contact Vickie Diggs at 937.966.6313
About Scorpionliquidatorsusa.Com
Scorpionliquidatorsusa.com brings your the best in Electronics,Housewares,Clothing,Shoes and Bulk Furniture Liquidations in the USA!!
Original Press Release.

Source: PRUnderground.com