London Digital Marketing conference, #DMWF is launching their Global event series in London taking place on the 16TH -17TH of April at 155 Bishopsgate. 2018 is set to see three instalments of the unique event that brings together professionals from around the globe to discuss thought-provoking content including: Content Marketing, Social Media, Mobile Marketing, User Experience, Influencer Marketing, E-Commerce, Virtual Reality and Artificial Intelligence
United Kingdom (PRUnderground) April 13th, 2018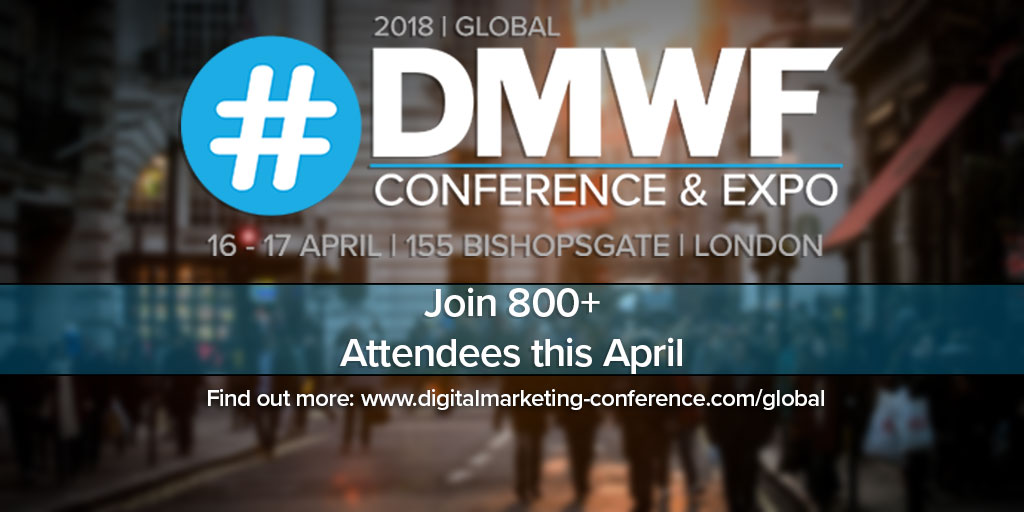 London Digital Marketing conference, #DMWF is launching their Global event series in London taking place on the 16TH -17TH of April at 155 Bishopsgate. 2018 is set to see three instalments of the unique event that brings together professionals from around the globe to discuss thought-provoking content including: Content Marketing, Social Media, Mobile Marketing, User Experience, Influencer Marketing, E-Commerce, Virtual Reality and Artificial Intelligence.  Split across two tracks:
> Content and Social Media Marketing
What can you expect?
#DMWF is set to showcase the latest in digital marketing through insights and knowledge from over 80 keynote speakers from industry leading brands, including Twitter, Facebook, IBM, HMD Global and so many more:
Joseph Rice, Managing Director, Twitter
Dion Magee, Head of Fashion, Facebook
Miri Rodriguez, Storyteller, Microsoft
Steve Millard, Head of E-commerce & Digital, Arla Foods
Ben Kay, Head of Digital, Brand and Marketing, Thames Water
Javier Diez-Aguirre, Vice President Corporate Marketing, Ricoh Europe
Danni Irving, Head of Marketing, Loot Financial Services
Mark Abrami, Director Global Social Marketing, Sage
Debarshi Pandit, Head of Multicultural, Sky
Iain Sawbridge, Chief Marketing and Digital Content Officer, Beano Studios
Gill McHattie, Head of E-commerce, Allianz
Amanda Alampi, Social Media Strategist, Amnesty International USA
Anoo Mehmi, Global Digital Content Strategist, GSK
Kim de Ruiter, Global Director of Content Marketing, VEON
William Bonaddio, Social Media Editor-in-Chief, McDonald's
Michael Boyle, Head of Digital, Manière De Voir
Cristy Garratt, Head of Digital Video and Social Media, CNBC
Event attendees can also expect to meet with over 800 like-minded marketing professionals from all over the globe. The agenda for the show has been designed to give you the opportunities to get networking. The Digital Marketing Conference will also be joined by 25+ Global marketing exhibitors showcasing the latest in digital marketing tech.
This digital marketing conference is spread over two days. The event starts at 8:30 and finishes at 6:30, with #DMWF hosting a networking drinks party as there is no better way to unwind than with a glass or two with your fellow digital marketers.
Cheak out all that is going on at 155 Bishopsgate London via the #DMWF website: http://digitalmarkeitng-conference.com/global/
Appendix:
Name: #DMWF global
Location: 155 Bishopsgate, London
Date: 16th-17th April
About Six Degrees Events Ltd.
Six Degrees Events Ltd. has an 9 year history of bringing together marketing professionals from around the globe for two days of top-level content, interactive debates and networking opportunities.
Original Press Release.

Source: PRUnderground.com