2017 U.S. sales were 1000 times greater than its first year of business.
Erie, PA (PRUnderground) May 16th, 2018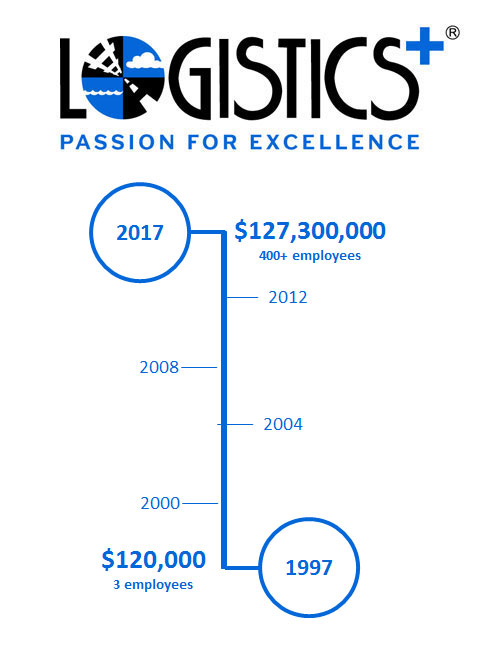 Logistics Plus Inc., a leading worldwide provider of transportation, logistics and supply chain solutions, reports that its final 2017 U.S. sales were 1000 times greater than the amount it reported in its first year of business.  Jim Berlin founded Logistics Plus in 1996 with three employees serving a single customer on a $120,000 purchase order. Last year the company enjoyed record-setting U.S. revenue of $127.3 million (not including overseas offices), which was nearly 50% greater than the year prior and more 1000 times greater than its inaugural year. Today, Logistics Plus has more than 400 employees serving thousands of customers in more than 22 countries around the world.
"Logistics Plus has enjoyed 20 years of year-over-year sales growth and 21 consecutive years of profitability," said Jim Berlin, founder and CEO of Logistics Plus. "I am so proud of what our diverse, growing team has accomplished the past two decades, and how we've continued to change for the future. Logistics is a trillion-dollar industry. Everything around us moves; but it takes talented, caring people and great technology to adequately address the stringent requirements of today's modern supply chains. Thankfully we have both."
Logistics Plus celebrated its 20th anniversary in August of 2016. In recent years, the company has been recognized with numerous awards for its rapid growth, entrepreneurship, quality services, and great workplace.
About Logistics Plus Inc.
Logistics Plus Inc. provides freight transportation, warehousing, global logistics, and supply chain management solutions through a worldwide network of talented and caring professionals. Founded in Erie, PA by local entrepreneur, Jim Berlin, over 21 years ago, Logistics Plus is a fast-growing and award-winning transportation and logistics company. With a strong passion for excellence, its 400+ employees put the PLUS in logistics by doing the big things properly, and the countless little things, that together ensure complete customer satisfaction and success. The Logistics Plus® network includes over a dozen locations in the United States, and numerous other offices in more than 20 countries around the world. For more information, visit www.logisticsplus.net or follow @LogisticsPlus on Twitter.
Original Press Release.

Source: PRUnderground.com