Stopping Robocalls sometimes Challenging but Achievable for Leading Solutions
Seattle, WA (PRUnderground) July 11th, 2018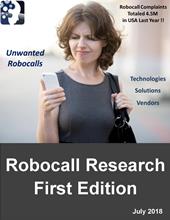 Accordingly to YouMail, over 4 billion robocalls were placed in June 2018, with over 300 million of them reaching a called party. While leading robocall detection and unwanted call management solutions often stop calls before they even ring a phone, many unfortunately still get through. This has led to more than 4.5 million robocall complaints in 2017, up from 3.4 million the prior year.
Robocallers use technology tricks to gain the trust of the consumer such as local number spoofing, which is a technique that involves manipulating the calling party's number to appear different than the actual number.
Mind Commerce research indicates that many would-be robocallers attempt to use invalid or unallocated phone numbers. This allows robocall detection solutions that leverage data obtained from certain official industry telephone number administrative databases to stop these call types.
The Mind Commerce study has also found that so-called neighborhood number spoofing (spoofing in which a phone number is altered so that it looks like someone in the local area is calling) is harder to detect, but not impossible. Advanced analytics and artificial intelligence may be utilized to determine if a call is a valid caller or a temporarily "high-jacked" telephone number.
First Ever Robocall Research Report is available through Mind Commerce
Mind Commerce has initiated coverage of the robocall detection and unwanted call management space with its first edition of the Robocall Research report. This first edition of the report evaluates the current state of robocalls, technologies for dealing with unwanted calls, leading vendors and solutions.
This report also analyzes industry challenges and the future outlook for robocall technologies and solutions to defeat spammers, scammers, and fraudsters. Purchasers of this report will receive a briefing with the Mind Commerce analyst team to answer questions about the technologies, companies, solutions, and the market outlook.
About Mind Commerce
Mind Commerce is an information services company that provides research and strategic analysis focused on the Information and Communications Technology (ICT) industry. Our ICT reports provide key trends, projections, and in-depth analysis for infrastructure, platforms, devices, applications, services, emerging business models and opportunities. We focus on key emerging and disintermediating technology areas for service providers, technology providers, developers (communications, applications, content, and commerce), systems integrators and consultants, government organizations and NGOs, and the financial community. MEDIA: We welcome discussions about our research and would love to share our findings, insights, and quotes for your news article, blog, or professional industry portal. CONTACT us via email at Contact@MindCommerce.com or Call: +1 877 646 3266
Original Press Release.

Source: PRUnderground.com