Experts agree many health issues can be traced to digesting food poorly. Enzymatic Vitality is offering a solution with their new supplement focused on this issue.
Los Angeles, CA (PRUnderground) June 13th, 2018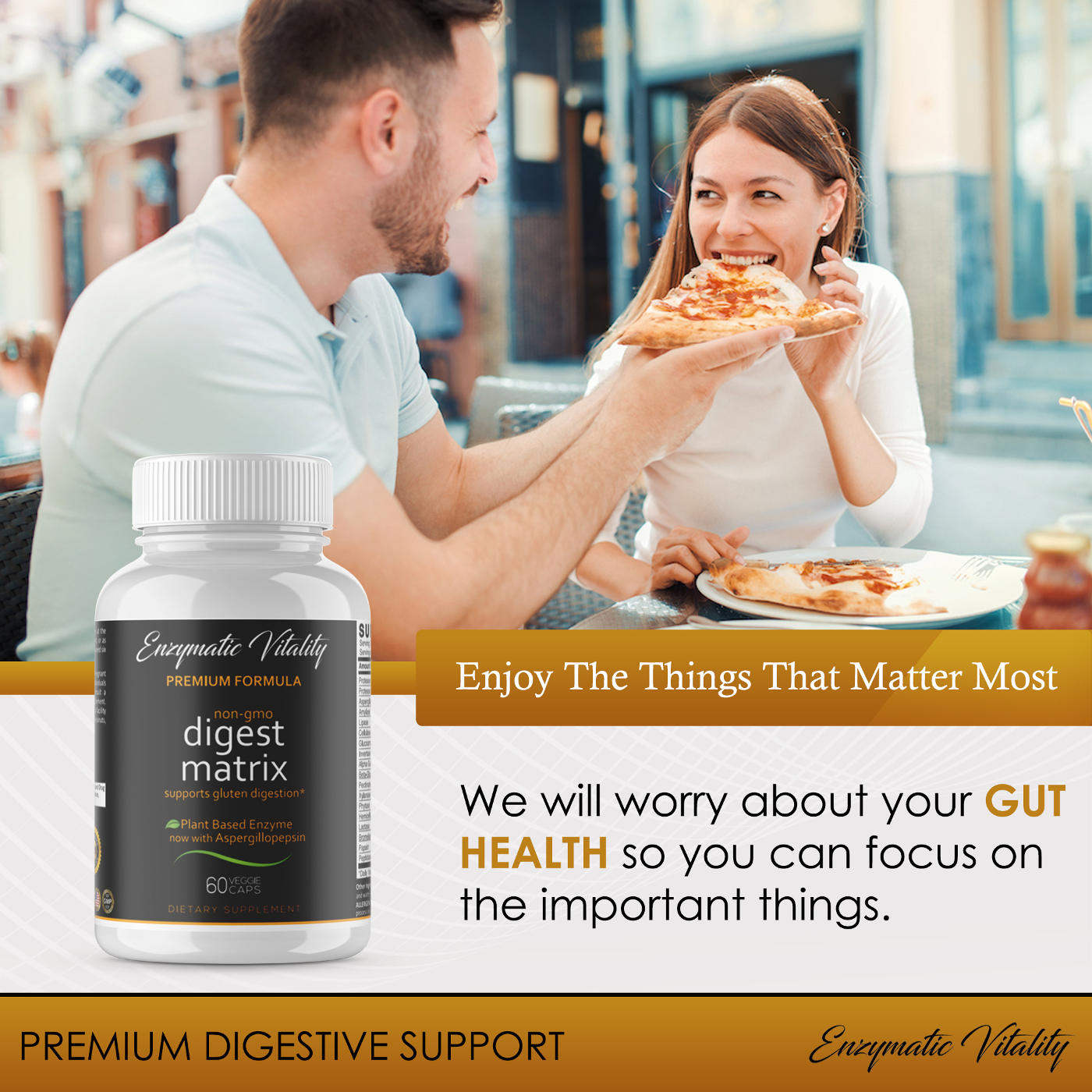 A person should never underestimate the overall lifestyle importance of digestive health. There's no argument that when not in order poor performance in this area can lead to everything from low energy, to fat gain, to mood swings. The good news is treating these problems can be simple, with the use of the right high-quality supplement choice. A new leader in this space, winning rave reviews, is Enzymatic Vitality, who recently announced the launch of their new digestive health-focused supplement "Digest Matrix", an Enzymatic Vitality Digestive Enzyme Supplement developed to help deliver optimal digestive health. The enthusiasm surrounding the new release, which is available both from the company directly and on Amazon.com, has been fantastic.
"Renew yourself, our passion is your health," commented a spokesperson from the exciting new brand. "Try out our Enzymatic Vitality Digestive Enzyme Supplement and see the positive results it delivers first hand."
According to Enzymatic Vitality, some of the highlights of the benefits their supplement can deliver include a reduction of bloating, digestive issues, and potentially embarrassing gas; a boost in healthy, non-jittery, natural energy; and USA-manufacture using plant-based ingredients ensuring ethical soundness and the integrity of the product.
All of Enzymatic Vitality's supplements go through rigorous third-party quality control testing and are backed up by a 100% satisfaction money back guarantee.
Early reviews of "Digest Matrix" from Enzymatic Vitality have been completely positive.
Michelle S., from New York, recently said in a five-star review, "I have always had problems with bloating despite exercise and being on a low calorie diet and a friend suggested I look into digestive enzymes. I purchased three bottles of the 'Digest Matrix' Enzymatic Vitality Enzyme supplement and started seeing results within days. Now my stomach is as flat as it has ever been. Fully recommended."
For more information be sure to visit https://enzymaticvitality.com.
The statements regarding this product or treatment have not been evaluated by the Food and Drug Administration. This product is not intended to diagnose, treat, or prevent any disease. The information on this website or in emails is designed for educational purposes only. It is not intended to be a substitute for informed medical advice or care. You should not use this information to diagnose or treat any health problems or illnesses without consulting your physician. The news site hosting this press release is not associated with Enzymatic Vitality. It is merely re-publishing a press release announcement submitted by a company, without any stated or implied endorsement of the product or service.
About Enzymatic Vitality
We started our company with a passion to help people feel better through the use of good clean supplements. Our Plant Based Digestive Enzyme Supplements are made in the U.S where our team of scientists pick only the best ingredients to ensure safety and quality for our consumers.
Original Press Release.

Source: PRUnderground.com