SAP Analytics named CRD™ Crystal Reports Scheduler 'App of the Week' for its ability to easily automate Crystal Reports functions, saving users time and money, with a demonstrated payback customers can realize.
Charlotte, United States (PRUnderground) May 16th, 2018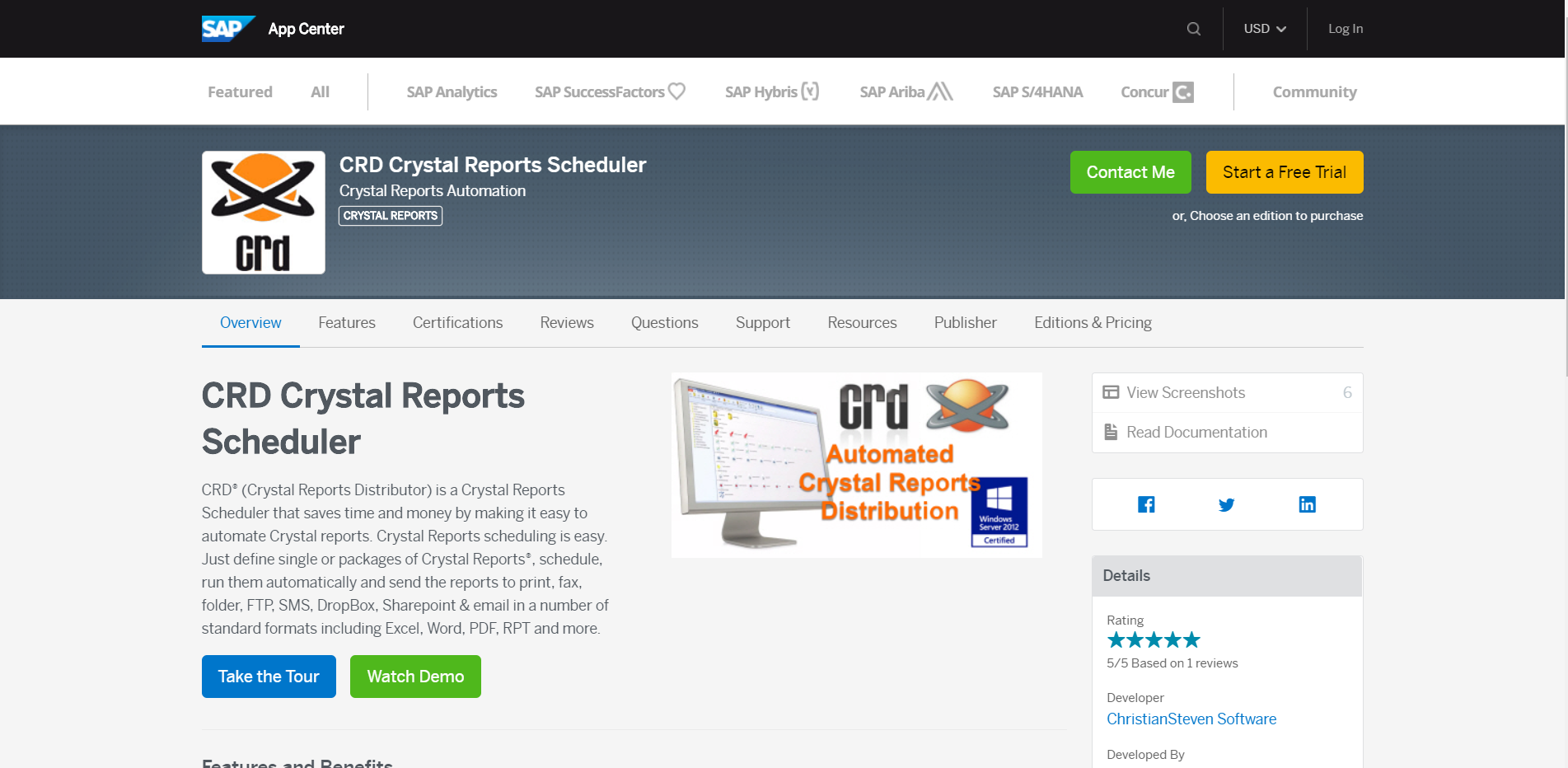 Earlier this week SAP Analytics announced CRD™ Crystal Reports Scheduler as its 'App of the Week' in the SAP App Center because of its ease of use and ability to easily automate Crystal Reports functions.
The CRD Crystal Reports Scheduler allows users to save time and money by creating more efficiency across business processes and workflows. The software enables CEOs, CIOs and other top level executives to automate reporting throughout their organization easily and efficiently.
"The main advantage of CRD is how easy we have made Crystal Reports scheduling," explains Christian Ofori-Boateng, CEO of ChristianSteven Software, the makers of the app. "With CRD, you can easily export and send reports to any destination automatically and on a predefined or custom schedule in whatever format you need."
CRD™ is able to schedule reports to be sent automatically to print, fax, folder, FTP, SMS, DropBox, Sharepoint or email in a number of standard formats including Excel, Word, PDF, RPT and more.
Standard features of CRD Crystal Reports Scheduler include:
Scheduling Frequencies

Data Driven Scheduling

Pre & Post Delivery Workflows

Event Triggers

Intuitive Interface

Windows Service Scheduler
The SAP App Center has a complete overview of the software, along with screenshots, reviews, features, pricing and a dedicated resource page full of videos demonstrating the product in action.
Customers have had proven success with the product, including notable companies like NextGen Healthcare:
"CRD is a huge time saver. By getting the reporting done outside of normal working hours it allows employees to be more productive and focus on more meaningful tasks." — Monica Pepe, NextGen System Support Administrator
ChristianSteven Software, a leader in automated report scheduling for Power BI, SSRS, Crystal Reports and MS access, has spent 15 years building solutions like CRD for customers all over the world.
To learn more about CRD™ Crystal Report Scheduler visit christiansteven.com or the SAP App Center to download a free trial, which includes the full version of the software, along with free setup, training and support.
Download your free Crystal Reports trial here: https://www.sapappcenter.com/apps/10833
About ChristianSteven Software
ChristianSteven Software has helped over 1,000 organizations in over 47 countries automate report distribution and sharing in Power BI, SSRS, Crystal Reports and MS Access at a fraction of the cost — building efficiency, security and cost-savings into the very product CEOs, stakeholders, and engineers rely on to automate business process workflows and get things done.
Original Press Release.

Source: PRUnderground.com