The newest addition to LA art scene, the Art in LA exposition is open to independent, emerging artists presenting projects in a gallery setting to further their careers.
Los Angeles, California, USA (PRUnderground) August 9th, 2018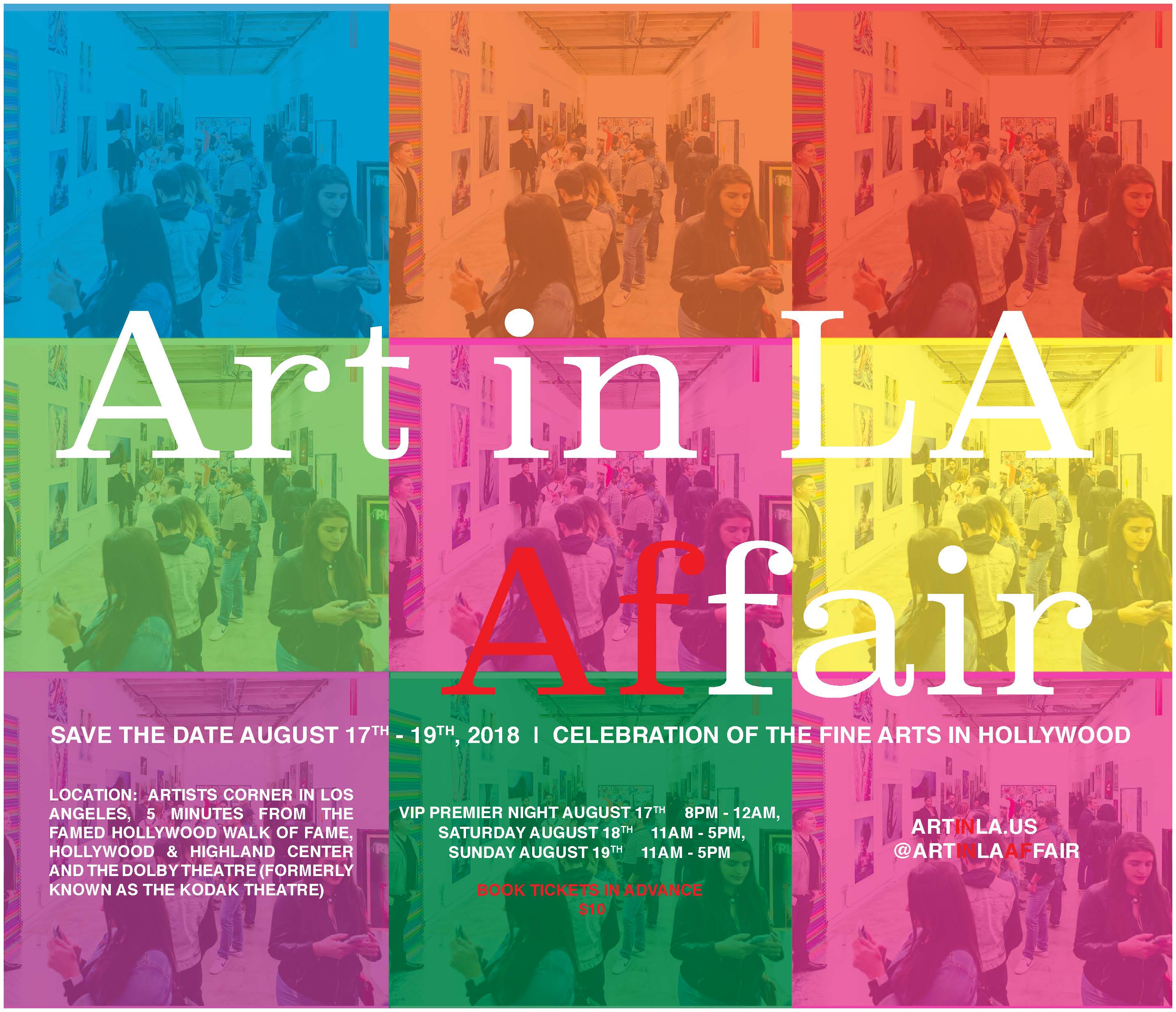 ART IN LA AFFAIR | AUGUST 17TH – AUGUST 19TH, 2018 | VIP PREMIER AUGUST 17 | 8PM – MIDNIGHT
AC Gallery presents Art in LA Affair, the inaugural boutique art fair in partnership with Artsy. The newest addition to the ever-growing art scene in Los Angeles, the affair is open primarily to independent, emerging artists seeking to present projects and works in an intimate, established gallery setting while gaining invaluable experience to further their respective careers. Art in LA Affair will showcase contemporary fine art at AC Gallery's 3,000 square foot gallery space in all media types including painting, sculpture, and photography with limited edition prints and artist merchandise. An extensive range of art at varying price points will make ownership of emerging artists' work more accessible to all visitors and collectors.
AC Gallery was founded in 2012 and located adjacent to the famed Hollywood & Highland Center and Hollywood Walk of Fame, with participation at the Wynwood Arts District during Miami Art Week. With over 50 art exhibitions and consecutive art fair appearances, AC Gallery is celebrated as a showcase for mid-career and emerging artists in Los Angeles and Miami. AC Gallery consistently curates high-quality contemporary art exhibitions and receptions nationwide with the mission to provide exhibition opportunities, professional development and residency programs for artists.
Art in LA Affair Special Project space features limited edition screenprints of the original album cover for 1984's The OFFS First Record created by Jean Michel-Basquiat. It is the only showing of these works in the United States before they are exhibited in conjunction with the Jean-Michel Basquiat/Egon Schiele exhibition at Fondation Louis Vuitton in Paris from October 3, 2018 – January 14, 2019. The OFFS First Record 1984 is one of only two record jackets created by Basquiat, one of the most rare vinyl jackets created by an artist and featured in the just released catalogue Art & Vinyl. The OFFS were part of the legendary ska/punk rock alternative music revolution that still resonates today.
Art in LA Affair VIP Premier Night with scheduled host Carson Kressley is set for Friday, August 17th from 8pm-midnight at AC Gallery located 1546 N. Highland Ave. Los Angeles, CA, 90028. The opening reception is will offer live entertainment and complimentary refreshments all night long. General Admission weekend dates are set for Saturday, August 18th and Sunday, August 19th from 11am-5pm. Expect dynamic days with collectors, curators, celebrities, art critics & artists! Tickets now available – VIP Premier Night: $50/person | Single Day Ticket: $10/person | Weekend Pass Ticket: $15/person.
To find out more information about Art in LA Affair and AC Gallery, visit website www.artinla.us
About AC Gallery
Original Press Release.

Source: PRUnderground.com